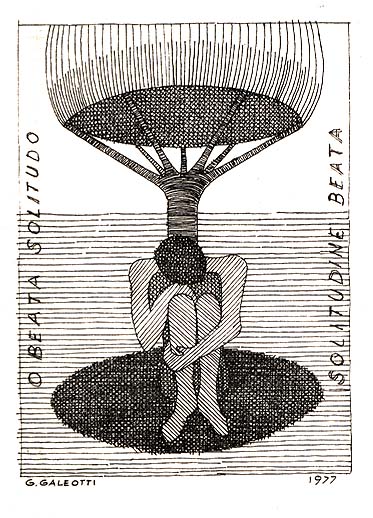 "O BEATA SOLITUDO, SOLITUDINE BEATA "
IS AN ANCIENT LATIN MOTTO WICH CAN
BE TRANSLATED (WORD BY WORD):
"OH HAPPY SOLITUDE IN HAPPY SOLITUDE"
AND WHOSE MEANING CAN BE THAT YOU
CAN FIND AN HAPPY SELFCONSCIOUSNESS
IN A SERENE SOLITUDE.

IN THE IMAGE THERE IS A CERTAIN IRONY:
MAN IS, AT THE END, ALWAYS ALONE IN HIS
LIFE; SO TO FIND HAPPINESS IN SELFCON-
SCIOUSNESS, IN THE SOLITUDE TO WICH
MAN IS PUSHED, MORE & MORE, BY
MODERN SOCIETY, CAN BE A GOOD ADVISE.
STILL, AS THE IMAGE SUGGESTS, THAT KIND
OF EGOCENTRIC HAPPINES WHERE MAN
SEARCHES INSIDE HIMSELF WHAT HE CAN
NOT FIND OUTSIDE, IS NOT COMPLETELY
SATISFYING.